One of the most important questions I should probably get from my clients at loan application would be, "How much homeowners insurance should I get on my home?". I don't get this question. As I read the article in my YOU Magazine this month, I wondered why.
It's more than likely that there are other more pressing questions on my clients minds; interest rate, closing costs, what are closing costs, what amount do I need at closing, but how much insurance coverage is not even on their radar.
This article is an excellent discussion of WHY it should be at the top of mind when getting your mortgage loan in order. It's also a great discussion to spur on analysis of how well or how poorly insured we are on other important things: life, auto, disability, health, retirement home, etc.
Enjoy this great article and click here if you would like to receive YOU Magazine for yourself each month:
Click here to sign up for YOU Magazine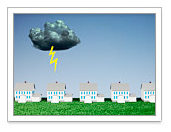 Last month, the world watched in horror as another tsunami brought immense devastation, this time to Japan. In light of the tragic earthquake and subsequent tsunami, the editors of YOU Magazine wanted to discuss a topic that's important to all homeowners: homeowners insurance.

Let's start with some important questions:

Do you know what a typical homeowner's insurance policy covers?


If you're currently a homeowner, do you know what your policy does, or more importantly, does not cover?
A study released by the National Association of Insurance Commissioners pointed out that typical property and liability policies do not cover home damage from floods, earthquakes, water line breaks, termites, mold, and several other perils, large and small.

Hurricane Katrina taught us hard lessons about home insurance. One unbelievable story was the loss of home equity experienced by Senator Trent Lott. The Senator's long time insurance company did not cover his home after it was completely destroyed by Katrina.

The reason?

With hurricane insurance you typically have coverage from high winds, but not water damage. The water surge brought onshore by Katrina is what destroyed his home.

Homeowners need to be properly protected. Plan for the worst, hope for the best is prudent advice here. Mortgages and home equity are a big part of every homeowner's financial plan and proactive planning is essential!

If you want to discuss your personal situation, contact the professional who supplied you with this month's issue of YOU Magazine. Don't wait until after a tragedy happens to learn exactly what type of coverage you have. Then, it may be too late to protect yourself, your home, and your financial future.